The Outremer 45 is the most famous model of the French shipyard Outremer. It started in 2000 and ended in 2010 with almost 40 units produced. A real success story that continues to be a reference for long distance cruising. Gérard Danson has created a superb travel catamaran, versatile, powerful, easy to use even with a very small crew, not to say alone! It is a lot of fun to sail because it is a fast and lively boat at all speeds. Its pleasant cockpit makes life easy at anchor.
Here in a very nice 4 owner cabin version, with dedicated bathroom and separate shower. LOLLIPOP has been carefully equipped for sailing around the world:
- A rigid bimini, SSB, 30L/h watermaker, 600w solar panels, AIS, fridges and freezer, a more than complete and quality number of sails (1 hydranet mainsail, 1 solent, 1 code 0, 1 gennaker, 2 spinnakers), hydrogenerator, rigging fully replaced in 2020 /2022.
Her maintenance has been meticulously carried out throughout the years, which allows her to be in perfect condition today!
This catamaran has had 4 owners since her first launch. The 1st one from 2008 to 2011 has sailed around the Atlantic.
The 2nd one sailed in the Mediterranean Sea and then undertook works at the Outremer shipyard (lengthening of the skirts, installation of a rigid Bimini, reconditioning of the engines. Then he went to Amsterdam where the rigging was removed and then to Switzerland to redo the electrical part. He crossed the Atlantic to the Caribbean where he sold the boat in Martinique in 2017. The next owners had a survey done in St Martin before the acquisition and then sailed to Polynesia where they took the boat out in Apataki and sold it at the end of 2019 to the current owner.
The boat is taxes paid in Polynesia (Papeetisation), so it can stay sailing in Polynesia without restriction! Ready to explore this magnificent playground that is Polynesia! Contact us now!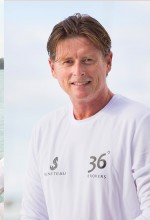 For Full Inventory Contact:
Eric Pinel-Peschardiere