RM 1180
Asking Price
NZD $479,000
We are very pleased to offer on the market GIROTONDO, an RM1180 from 2020.
The RM1180, arguably the fastest cruising monohull of her category, she has been nominated European yacht of the year 2020.
Always on the lookout for even more power, RM has designed the 11.80 hull to be wide and powerful, with a raised stern that makes it easier for the yacht to glide. Despite this sporty character, there is no lack of amenities below deck. The bright and spacious interior offers a panoramic view and is equipped with practical and functional features.
RM has worked hard with the Lombard design office to overcome its limitations and develop a yacht that combines speed, modern design, and performance with rare elegance.
This 3 cabin/1 head layout offers plenty of space. The U shape galley on the portside is perfectly adapted for cooking under sails.  The focus on lightness, well-being and safety is pursued.
It is a real pleasure to sail GIROTONDO as it makes every manoeuvre efficient, easy, and safe. All of the rooms are designed to optimise freedom of movement, work effort, and safety. In the cockpit and on deck, each winch and block is optimally dimensioned and positioned.


The owners chose GIROTONDO for two main reasons:
-              Having a fast and comfortable yacht with a lot of pleasure while helming.
-              Enough volume for five without choosing a catamaran and easy to single-handed if necessary.


After a year of sailing the world, this RM1180 is the perfect vessel for it. They are now sailing from Tahiti to Vanuatu and are ready to sail to New Zealand anytime to show you this beauty.
One thing is for sure: GIROTONDO will seduce you and opportunities like this are extremely rare in this part of the world.
So don't wait and call Laurent below or email the team to get a full inventory.
 
**Price plus taxes if applicable.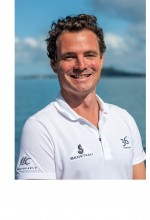 For Full Inventory Contact:
Laurent Boudou